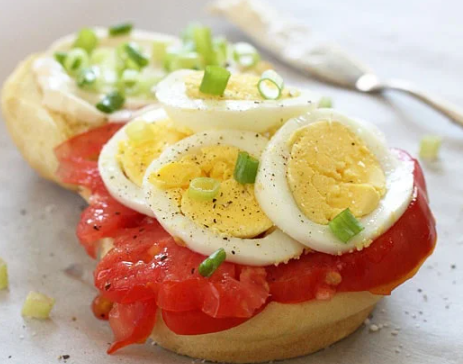 Egg Tomato and Scallion Sandwich
Sliced hard boiled eggs, juicy ripe tomatoes, chopped scallions with a touch of mayonnaise, salt and pepper – enjoy this sandwich for breakfast or lunch. Inspired by skinnytaste.com.
Ingredients
Instructions
Assemble the sandwich by placing the egg on the bread, then the tomato, then scallion.

Top with salt and pepper and spread mayonnaise on the top of the bread.
Notes
Keep hard boiled eggs in your refrigerator for a quick breakfast on the go, to add to sandwiches or even salads.
If possible, boil older eggs first. Fresh eggs are harder to peel once hard boiled.
Serve it open-faced on a slice of sourdough bread!
You can make the sandwiches the night before and wrap them tight with plastic for quick and easy breakfast to go.