A healthy taco salad that's quick and easy, but full of flavor! Inspired by veggieinspired.com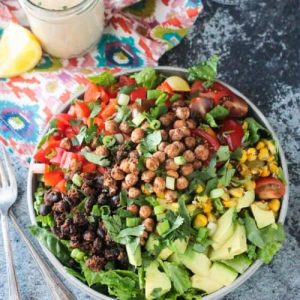 Black Bean Taco Salad
Ingredients
1

15-ounce can

black beans (rinsed and drained)

2

teaspoons

Chili Powder

1/2

teaspoon

Salt

1/2

teaspoon

garlic powder

1/2

teaspoon

smoked paprika

1

teaspoon

cumin

1/2

teaspoon

cayenne (optional)

1/4

cup

Water

1

15-ounce can

chickpeas (rinsed, drained and dried really well)

1

teaspoon

Chili Powder

1

teaspoon

cumin

1/2

teaspoon

Salt

1/2

teaspoon

Salt

1/4

teaspoon

Cinnamon

1

head

green leaf lettuce (chopped)

1-2

chopped

tomatoes

1

red bell pepper (diced)

1

avocado (diced)

1

cup

fresh corn kernels (or frozen, thawed

1

recipe

Southwest Vegan Ranch Dressing
Instructions
Preheat oven to 400 degrees F.

Toss chickpeas with the chili powder, cumin, salt and cinnamon.

Place chickpeas on a baking sheet in one even layer and bake for 20 to 30 minutes, shaking them around 1/2 way through. Chickpeas should be slightly crunchy...they will continue to crisp up as they cool. Set aside.

Toss the black beans with all the spices and warm in a pan over medium heat with 1/4 cup water. Stir occasionally until warmed through, about 5 to 6 minutes.

To assemble the salad, toss the lettuce, tomatoes, peppers, avocado and corn in a large bowl. Plate the lettuce mixture on each individual plate or bowl. Add the black beans to the individual servings and top with the crunchy roasted chickpeas. Drizzle with the Southwest Vegan Ranch Dressing.
Notes
This spice mixture isn't spicy hot, so it's great for kids too. If you'd like added heat, try adding 1/2 teaspoon chipotle powder to the black beans or topping your salad with a drizzle of spicy salsa.