This no-bake vegan blueberry cheesecake will melt in your mouth. It's creamy, rich, sweet, and fruity. The recipe is plant-based (dairy-free, egg-free), gluten-free, easy to make and almost raw! Inspired by elavegan.com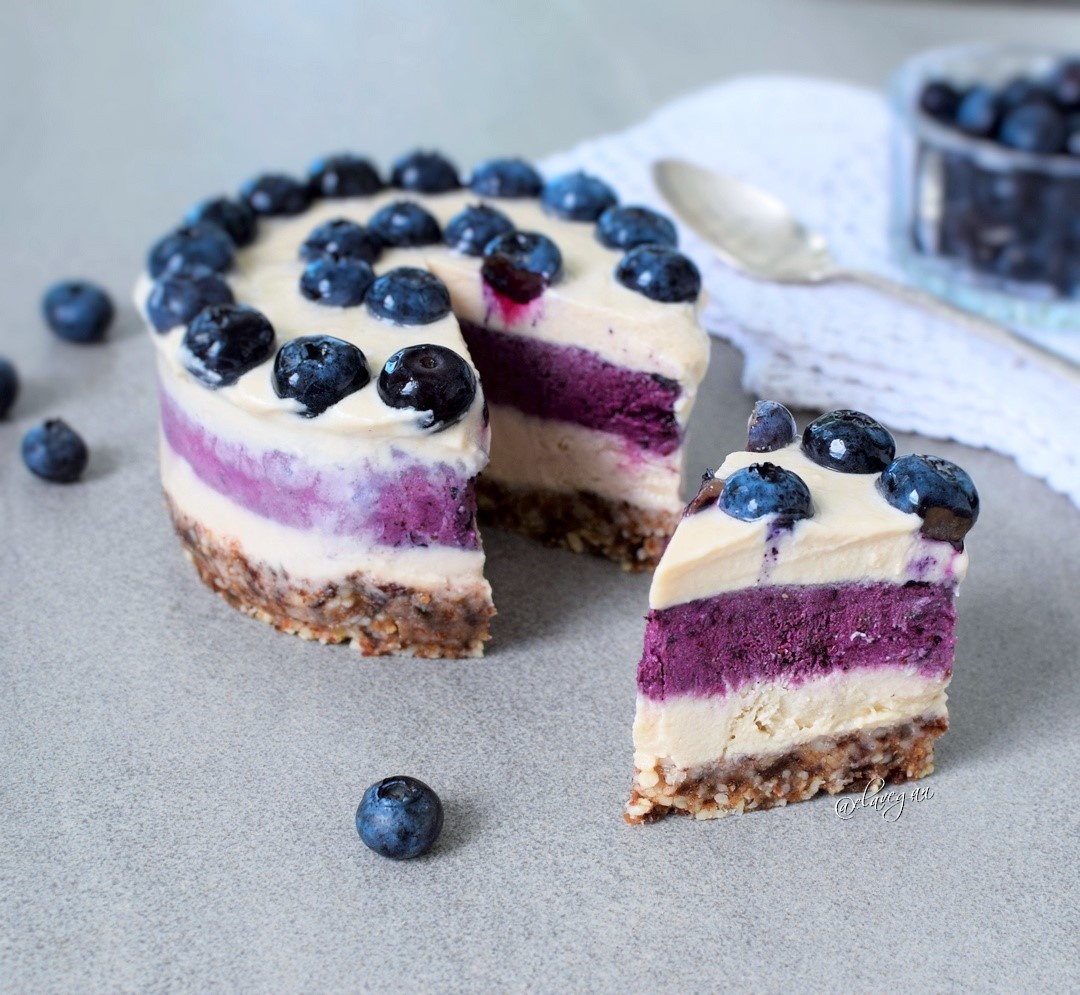 Raw Vegan Blueberry Cheesecake
Ingredients
1/3

cup (60 g)

nuts of choice

8

small soft (60 g)

dates

2/3

cup (100 g)

cashews

1/3

cup + 1 tbsp (100 g)

coconut yogurt

3

tbsp (60 g)

agave syrup or maple syrup

1/4

cup (60 ml)

coconut milk or almond milk, soy milk etc.

1

cup (150 g)

blueberries + more for decoration

1

tsp

maqui berry powder (optional)
Instructions
Soak cashews overnight or for at least 3 hours. It's also possible to boil the cashews in water for about 15 minutes until they are soft. Then drain the water and rinse the cashews.

Blend the ingredients for the crust in your food processor (pulse about 10-20 seconds) and spread the crust in a 4-inch springform. Set aside.

Now blend all cream ingredients (except the blueberries and the maqui berry powder) in your high-speed blender.

Set aside about 2/3 of the cream and blend the remaining 1/3 of the cream with the blueberries. I also added 1 tsp of maqui berry powder and 1 tsp of lime juice for a vibrant purple color.

Pour 1/2 of the light cream onto the crust and put the pan in the freezer for about half an hour

Pour the purple cream on top and freeze again for half an hour.

Finally, add the remaining light cream on top and decorate with some blueberries.

Freeze again for at least 3 hours (or overnight)

Let the cake thaw before you enjoy it.
Notes
Nuts: Use nuts of choice, for example, cashews, walnuts, macadamia nuts, hazelnuts, etc. You can also use seeds like sunflower seeds or pumpkin seeds, hemp seed, etc. instead.