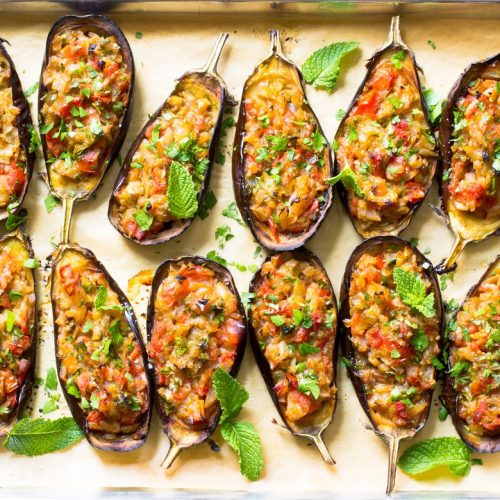 The Classic Turkish Stuffed Eggplant
The classic Turkish stuffed eggplant can be part of a mezze platter or a vegetarian entree. Inspired by bostonglobe.com
Ingredients
6

small (4- or 5-inch)

eggplants

6

tablespoons

olive oil

1

large

sweet onion (Vidalia, OSO Sweet, or another variety),

chopped

3

cloves

garlic,

finely chopped

4

plum tomatoes,

cored and roughly chopped

Salt and pepper, to taste

⅓

cup

fresh parsley

chopped

¼

cup

fresh mint

chopped

3

tablespoons

lemon juice

2

teaspoons

sugar

Extra fresh parsley leaves,

chopped (for garnish)

Extra fresh mint leaves

(for garnish)
Instructions
 Set the oven at 425 degrees. Line a large rimmed baking sheet with parchment paper.

Halve the eggplants lengthwise. With the tip of a paring knife, make an oval cut inside the edge of the eggplant flesh. Use a spoon to scoop out two thirds of the flesh from each eggplant and transfer to a bowl.

Set the halves on the baking sheet. Brush them with 2 tablespoons of the olive oil. Bake them for 35 minutes, or until the edges are brown.

Turn the oven down to 400 degrees.

Chop the eggplant flesh; set aside.

 In a large skillet over medium heat, heat 3 tablespoons of the olive oil. Add the onion, and cook, stirring occasionally, for 8 minutes, or until it softens.

Add the garlic and cook 1 minute more. Add the tomatoes, chopped eggplant, salt, and pepper. Turn up the heat and cook, stirring, for 10 minutes, or until the liquid evaporates. Remove from the heat and stir in the parsley and mint.

Fill each eggplant with the tomato mixture.

 In a small bowl, stir together the lemon juice, sugar, and remaining 1 tablespoon olive oil. Sprinkle the mixture over the eggplants.

Bake the eggplants for 40 to 45 minutes, until the filling is bubbling at the edges and the eggplants are tender when pierced with a skewer. Cool to room temperature. Sprinkle with parsley and mint leaves.