Most people usually adopt vegetarian's eating lifestyle for ethical reasons, such as protecting the right of animals, personal/religious reasons or environmental reasons. This explains why there are varieties in the forms of vegetarianism and kind of restrictions that come with each of them.
Vegetarian diets, which excludes eating of meat, fish and poultry, has lots of health benefits such as enhancing weight loss, reducing cancer risk, stabilizing blood sugar levels, and promoting heart health among others.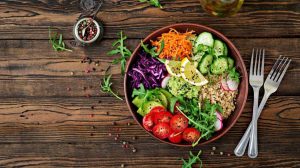 Since foods like dairy, eggs, fish, honey and any other foods from animal are all off limit on a vegetarian meal plan, it can be quite expensive to maintain. This post will educate you on the steps you can take to plan a cheap vegetarian meal plan, without missing out on essential proteins, vitamins and nutrients, jeopardising your health or starving yourself in any way.
Go For Cheap Whole Foods
First tip is making a cheap vegetarian meal plan is basing your meals on cheap whole food. Processed vegan foods such as meat substitutes, sweets and vegan cheese are generally more expensive than whole foods. However, tofu is an exception.
By staying away or avoiding processed substitutes for vegan and choosing the whole foods, you will have a lot of benefit when it comes to your health and wallet.
Legumes of all kinds can be used to create your cheap vegetarian meal plan. So are all kinds if potatoes, grains such as oats and brown rice, some seeds and nuts such as sunflower, pumpkin and flax seeds, vegetables and fruits..
2.      Make Time To Plan Ahead
Planning is very important if you are going to create a healthy but cheap vegetarian meal plan to meet your budget. The headache comes when you decide what you want to eat at the last minute and this racks up the cost of things.
Spend some hours each week to put down your ideas for daily meals for breakfast, lunch and dinner. Next, come up with a grocery list. This can be done by going through your pantry and refrigerator to determine any missing ingredients.
Try to buy fresh produce. Organic and inorganic products from farmer's market are significantly cheaper than the ones in the grocery store.
3.      Follow These Shopping Tips
You can store frozen vegetables for longer and you won't have to be using them all the time, so go for them. Buy canned vegetables as well. Buy your foods in bulk; it is one of the most effective ways to save more money on your weekly budget. However, you need to be wise and avoid foods that are high in salt, sugar and fat. Fresh products do not have long shelf life, so don't buy them in large quality.
Go for frozen foods. They so convenient, pre-washed, chopped and readily available to be steamed, stir fry and a stew. Buying frozen fruit and berries will help you save a lot of money. Don't forget to compare prices as well.
4.  Try These Tips For Your Kitchen
If you are going to make your thinking about cheap vegetarian meal plan easier, you also need to arrange your kitchen, structure your freezer, fridge and dry store with cheap vegetarian food.
In your dry store, you can have all kinds of potatoes, garlic, onions, grains such as rice, oats, pasta, barley and quinoa, legumes, which consists of all kinds of dry lentils and beans, canned beans.
Your fridge should consist of seasonal fruits and vegetables that can't be frozen, leafy greens wrapped in damp paper towel for durability, condiments and sauces, plant milk, tempeh and tofu.
Fill your freezer with leftovers, frozen herbs, fruit and frozen berries, and whole wheat bread as well.
Take Away
You don't have to increase your carbohydrate intake or cheese as you remove meats from your meal plan. Instead of the processed foods that add fat, sugar and sodium to your diet, go for whole foods instead.
Be sure each of your meals comes with adequate fiber and protein. Protein sources for vegetarian foods include seeds, nuts, beans, soybeans, legumes and whole grains such as quinoa. Most vegetables and fruits are loaded with fiber and beans, whole grains, berries and oat bran are especially great sources of this nutrient.