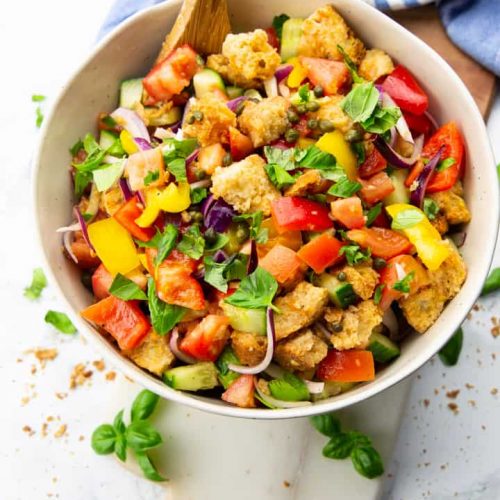 Panzanella
Panzanella is an Italian salad consisting of soaked stale bread, onions, and tomatoes. This panzanella salad is the perfect summer salad! It's super easy to make, vibrant, fresh, and light. I'm sure you will love it as much as we do around here.  Inspired by veganheaven.org.
Ingredients
1 

ciabbata or rustic bread 

(about 10 cups)

5 

tomatoes

roughly chopped

1/2 

cucumber

roughly chopped

1 

yellow bell pepper

roughly chopped

1 

red onion

cut into strips

1/4

cup

capers

1/2 

cup 

olive oil

1/4 

cup 

red wine vinegar

1/2 

teaspoon 

Dijon mustard

salt

to taste

black pepper

to taste

1/2 

cup 

fresh basil leaves
Instructions
Usually panzanella calls for stale bread. If you don't have it, you can also bake it in the oven for 15 minutes like I did. Preheat your oven to 350 °F. Cut the ciabatta into cubes and place them on a baking tray lined with parchment paper. Bake for 15 minutes. 

Roughly chop the tomatoes, cucumber, bell pepper, and the red onion. Place everything in a large bowl. Rinse the capers and add them to the vegetables. 

Make the dressing. Combine all of the ingredients for the dressing in a small bowl and stir well. 

Add the roasted ciabatta and the dressing and stir. Let it sit for about an hour before serving it. Tear the basil leaves and add them to the salad just before serving it. 
Notes
Don't place the salad in the fridge before serving it because this causes the tomatoes to lose a bit of their flavor. 
Make sure to let the salad sit for about an hour before serving it. You could also let it sit for up to 3 hours. 
I recommend eating the salad on the same day it's made. Leftovers will keep a few days in the fridge, but the bread will get too soggy and the tomatoes will lose their flavors. 
Concerning the bread, you have two options. You can either roast it in the oven like I did or you could leave it uncovered overnight to harden and stale. 
I used store-bought ciabatta bread, but if you want you could also make  your own ciabatta.