This roasted carrot soup could not be easier or more delicious – and it's vegan! You can have a hearty, healthy dinner on the table in less than an hour! It's perfect for a quick dinner or meal prep for the week! Inspired by midwestfoodieblog.com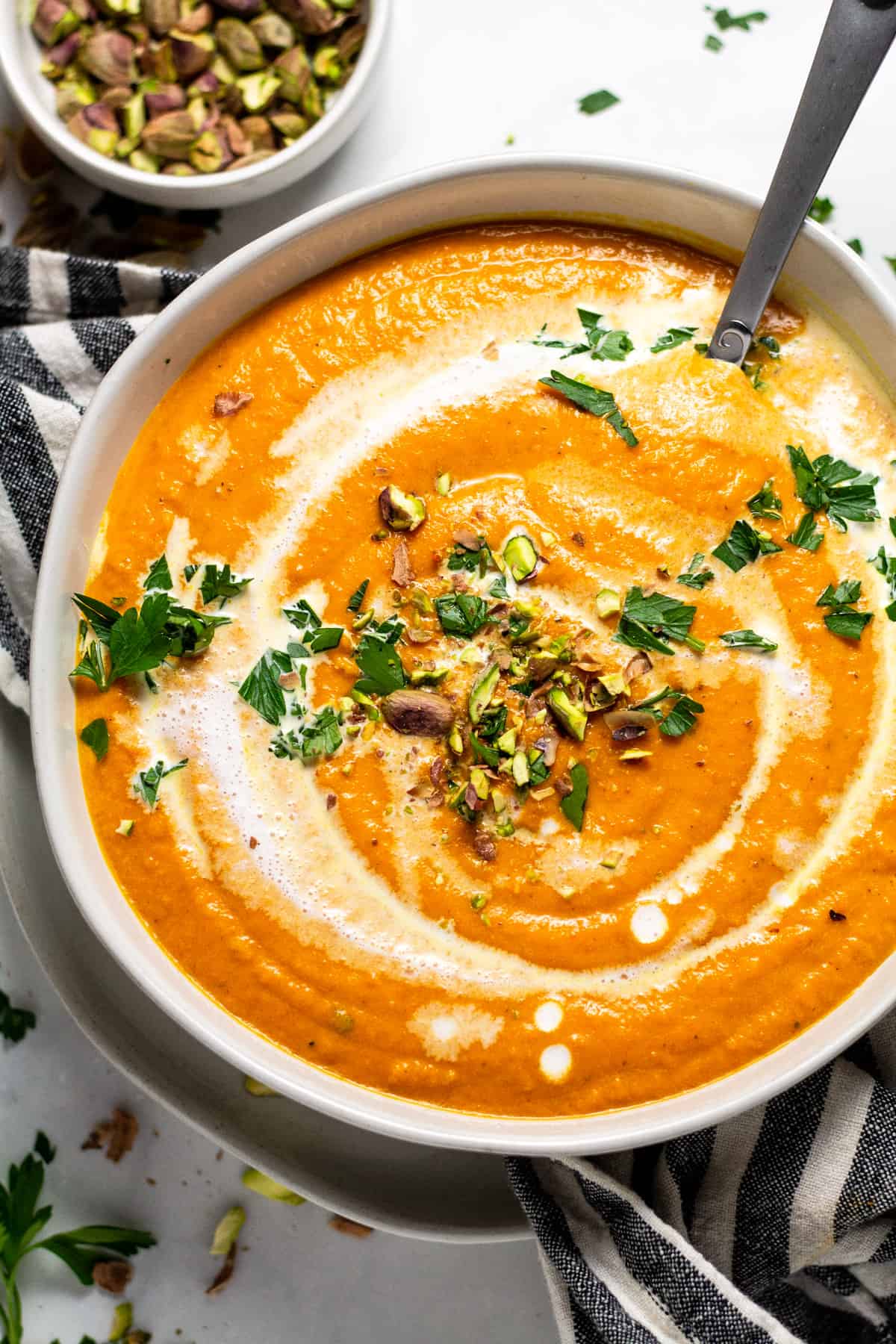 Creamy Vegan Carrot Soup
Ingredients
3

lbs.

Carrots

chopped into 3" pieces

1

yellow onion,

sliced in 4 wedges

1

head

garlic

halved width wise

3

tablespoons

olive oil

1.5

tablespoons

curry powder

1

teaspoon

smoked paprika

1

teaspoon

dried sage

1/2

teaspoons

dried thyme

1/2

teaspoon

garlic powder

1/2

teaspoon

cumin

kosher salt

fresh cracked pepper

4

cups

vegetable broth

1

cup

Water

1 (13.5 oz.)

can

full fat coconut milk,

save a couple tablespoons for garnish if desired

1

tablespoon

white balsamic vinegar

Coconut milk

(For garnish)

chopped pistachios

(For garnish)

fresh chopped parsley

(For garnish)
Instructions
Heat oven to 400 degrees.

Arrange veggies in a single layer on a baking sheet.

Drizzle veggies with olive oil.

In a small bowl combine curry powder, paprika, sage, thyme, garlic powder, cumin, and a large pinch of salt and pepper.

Sprinkle carrots and onions with seasoning and toss to coat.

Salt and pepper the garlic. Fold the corners of the foil up, creating a sealed pouch around the garlic.

Roast veggies for 50 minutes or until carrots are fork tender.

Remove from oven and allow to cool for a few minutes, then transfer carrots and onion to a high speed blender.

Squeeze roasted garlic from the skins and into the blender as well.

Add the vegetable broth and water and blend on high for about 3-5 minutes or until everything is smooth.

Pour pureed mixture into a large pot over medium heat. Stir in coconut milk and white balsamic vinegar.

Cover and cook until heated through. Season to taste with salt and pepper.

Garnish with a drizzle of coconut milk, chopped pistachios and fresh parsley.
Notes
Cut the carrots so they're all the same size. This will ensure that they roast evenly in the oven. I like to halve the larger carrots lengthwise so that all the carrots end up being about 3 inches long and an inch or so wide. You could also use baby carrots in place of regular carrots in this recipe which would reduce the prep time even more!
You can substitute the coconut milk for heavy cream if you aren't concerned with this meal being vegan. Use about 1 cup of heavy cream in place of the coconut milk and the flavors and texture will still be about the same.
If you're reheating this soup at a later date, you'll like need to add a splash of broth or coconut milk to loosen it up as it will thicken a bit as it sits. Also, don't forget to add a moderate amount of salt after it's reheated as well. This will boost all those amazing flavors and keep it tasting fresh!