Your family will say it's the best broccoli cheese soup they've ever had. And you'll feel great serving it because you know exactly what's in it! Inspired by midwestfoodieblog.com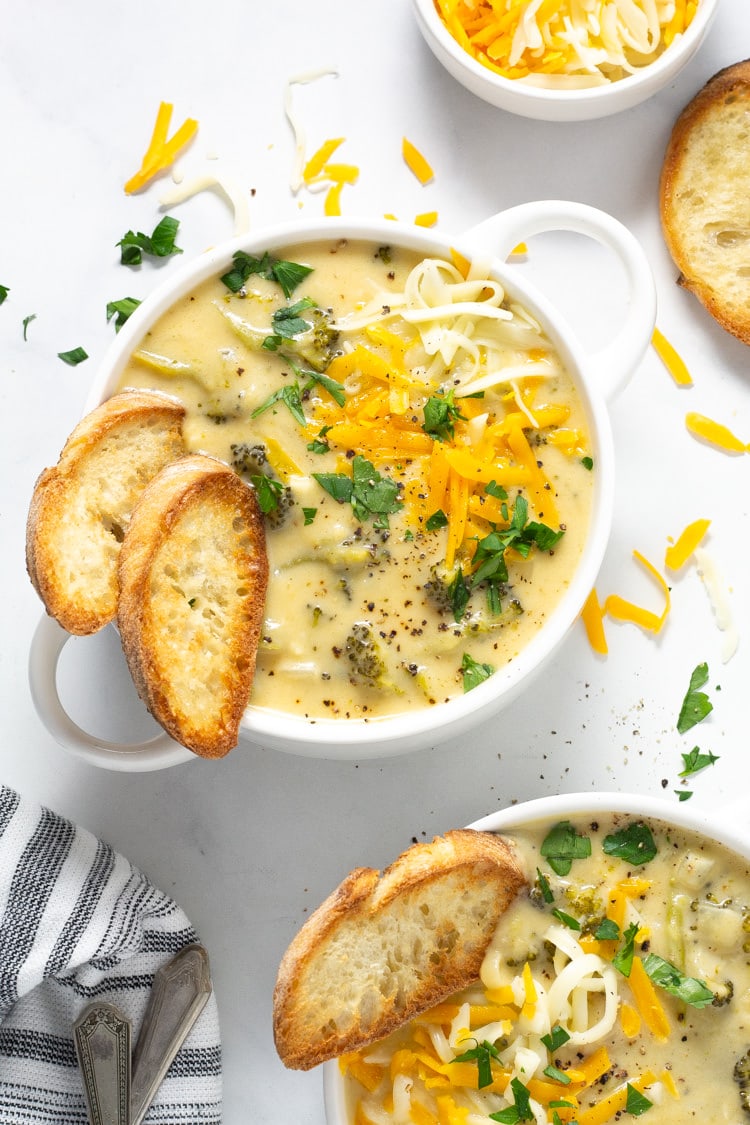 Broccoli Cheese Soup
Ingredients
6

cups

roughly chopped broccoli florets

(fresh, not frozen)

7

tablespoons

butter

, divided

large

yellow onion,

, diced

3

cloves

garlic

6

tablespoons

flour

14.5

oz. can

vegetable broth

2

cups

2% milk

1

teaspoon

ground mustard

1/4

teaspoon

cayenne pepper

kosher salt

fresh cracked pepper

4

oz.

shredded sharp cheddar cheese + more for garnish

4

oz.

shredded Monterey jack cheese + more for garnish

simple crostini,

optional
Instructions
Heat 1 tablespoon butter in a large pot over medium heat. Add onion along with a large pinch of salt and pepper and cook for 3-4 minutes, stirring frequently. Add garlic and cook for an additional minute.

Turn heat to medium low and melt remaining 6 tablespoons butter in the pot with the onion and garlic.

Add flour and stir to combine. Cook for about 1 minute, stirring frequently.

Add veggie broth and milk.

Then add ground mustard, cayenne pepper and a pinch of salt and pepper. Stir to combine.

Next stir in both cheeses until they are completely melted.

Add broccoli, cover pot and simmer over medium low heat for 20 minutes, stirring every 5 minutes.

If the soup seems to be simmering too rapidly or almost boiling, turn the heat down a bit. You want a gentle simmer for 20 minutes.

You'll know the soup is done when the broccoli is tender.

Serve with shredded cheese and a couple slices of crostini and enjoy!

To make the crostini: Slice French bread into 1/2″ thick slices and lay on a baking sheet. Drizzle with olive oil and broil for 1-2 minutes or until golden brown. Flip bread over and broil the other side for 1-2 minutes or until golden brown. Serve with soup and enjoy!
Notes
Always use unsalted butter for this broccoli cheese soup. Using unsalted butter allows you to better control the amount of salt and therefore the flavor of the soup. In fact, you should use unsalted butter in every recipe, unless otherwise noted.
Buy blocks of cheese and shred it yourself. Pre-shredded cheeses are coated with cellulose to help the shreds not stick together. Which also means that it won't melt as well. I've often found that buying cheese in blocks is cheaper than pre-shredded too!
Be sure to stir the soup occasionally as it simmers so that it doesn't stick to the bottom and burn. Stirring every 5 minutes is perfect!
When reheating this soup, make sure you add a bit more milk. As the soup cools it will thicken considerably. Adding milk will loosen it up and make it smooth and creamy again. Be sure to season taste with salt and pepper after reheating also!